Getting comfortable in a new home is one of the hardest parts of moving. After the movers pick up and leave, it's up to you to find a way to make your new property feel like home. This can be a daunting task. Fortunately for you, we've laid out four things that can help you start feeling at home in your new space. Keep reading to see which suggestions will work best for you.
Do some repainting
If you're looking to make a big impact, there's no better way to start feeling comfortable in a new home than by painting. Paint is one of interior design's best tools because it can totally change the look and feel of a space, yet it only costs pennies on the dollar. It will allow you to do away with the previous owner's personal tastes and help you put your own stamp on the place.
If you're going to go this route, we suggest painting first, before you even move in. That way, you won't have to worry about dripping paint on the furniture or on your belongings. Plus, by the time you're ready to officially move in, you'll already be a long way towards making the place space feel like your own.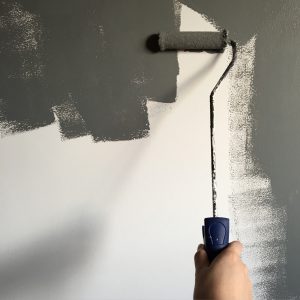 Unpack/buy new decor
When most people unpack after a move, they have a tendency to want to set-up the bare essentials first and leave the rest for later. However, we advise against that route. Put simply, your decor is the thing that does away with that "just moved in" vibe and starts to make a space feel like home.
Try to focus on unpacking room-by-room instead. Once you have the furniture set up, take the time to find new places to put all your accessories and decor items. Hang that wall art and spread out an area rug. Take the time to stylize any available surfaces. When you're done, the room will look and feel as though you've been living there for a while.
Get a programmable thermostat
There's nothing worse than finding out that your new home is like a sweatbox during the day and drafty at night. Fortunately, there's an easy solution to help you get comfortable no matter how hot or cold your new home may be. It all has to do with the thermostat. With a programmable thermostat – or a smart thermostat, if you want to get in on the smart home trend – you can make sure that the temperature in your home is always to your liking.
These days, programmable thermostats give you more control than they have in the past, allowing you to feel at home in your home faster. If you opt for one that has home zoning capabilities, for example, it will allow you to set different areas of the house to their own temperatures. This could allow each family member to sleep in comfort. It can also help you to save on heating and cooling by allowing you to set less frequently used areas of the home at an alternative setting from your main living space.
Set up your organizational systems
Every home needs a few organizational systems to keep it up and running. The faster you get these setup, the faster you can start to get in a routine at your new house. That's why we recommend looking into them as soon as possible when you move in. You'll be surprised how much easier life becomes when your belongings are properly organized.
As far as what you should organize in a system like the one above, everyone has different needs. For some people, having a dedicated closet organization system makes it easier for them to get ready in the morning. For others, having an organized mudroom helps them get out the door faster. Still, others find they need to create a separate study area for the kids.
Start this process by thinking about what areas of life are currently the most chaotic for you and your family. Then, brainstorm different ways in which adding an organizational system into the mix will help to streamline the process. If you need ideas, check out our organizational content for design inspiration.
__
It is so important to us that you feel at home in your new place – if you have questions or would like to know more tips on how to make a house feel more like a home, 
give us a call
,
text
, or
email
with
any
questions you have! We're here to help.