Curious about your market value? Send me a quick note and I can run some numbers based on the current market and pricing forecasts.
Is the real estate market warming up, similar to the weather as we approach summer? Let's chat!
Currently, both the Lower Mainland and Fraser Valley are experiencing a sellers market across all types of properties, including condos, townhouses, and single-family homes. In a sellers market, the demand for properties exceeds the available supply. Typically, this is determined by a sales-to-active listings ratio of 20% or higher.
The real estate market is dynamic and subject to fluctuations, and it's not possible to fully capture its complexities in a single news article that generally covers market activity across Canada or British Columbia. In May, certain areas experienced slower periods, reflecting the market's ebb and flow.
With the prevalence of offer dates, buyers have become more cautious when navigating multiple offer situations. The nature of these situations varies depending on the property, with some listings witnessing multiple offers without any conditions, while others receive offers with subjects.
Despite the overall sellers market, there are still excellent opportunities for buyers to find great deals. It's not uncommon for certain properties to be overlooked and spend a longer duration on the market. Nevertheless, open houses for condos, townhouses, and detached homes have remained vibrant, indicating sustained interest and engagement from potential buyers.
Condos/Townhouses:
In the Greater Vancouver area and Fraser Valley, the majority of the condo and townhouse markets have seen increased sales, except for North Delta and Mission. Maple Ridge has maintained consistent inventory levels, with only a 2% decrease in May compared to April. The number of sales has risen by 44% in the past month, from 73 listings sold in April to 105 listings sold in May. The average sale price has only decreased by $7,000, representing a 1% decrease over the last month. Like many other cities in the lower mainland, the average days on market is currently around 8 days, which is typical for this time of year due to high buyer activity. Silver Valley and West Central in Maple Ridge have an abundance of 1-bedroom properties on the market, presenting a great buying opportunity. On the selling side, 3-bedroom homes in Albion and Cottonwood are in high demand in Maple Ridge.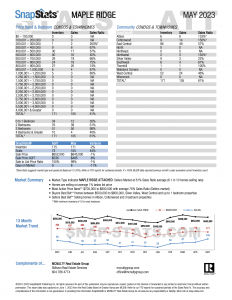 Detached homes:
The market for detached homes in the Lower Mainland and Fraser Valley has experienced significant activity in the past month. Most areas saw an increase in inventory, with the exception of Tsawwassen and Ladner. Maple Ridge witnessed rises in inventory, sales, and the average sale price. Homes priced between $1,750,000 and $2,000,000 in Silver Valley and Southwest Maple Ridge have a good amount of inventory but are not selling as fast. This provides a great opportunity for buyers who want to avoid competing in multiple offers and potentially secure a good home at a reasonable price. Homes with 2 bedrooms in Albion and Cottonwood are currently in high demand and are quickly being sold off the market. For sellers, this represents one of the best opportunities to sell in Maple Ridge.
While the real estate market in the Lower Mainland and Fraser Valley has experienced occasional slower periods, overall it has been active, especially for detached homes priced below $1,500,000. Homes in this price range have been in high demand, often receiving multiple offers. Although the average sale price has generally increased in most areas of the Greater Vancouver region and Fraser Valley, some areas have remained stable.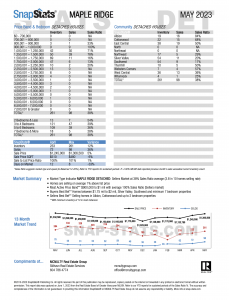 As we move forward, the next few months are expected to maintain a steady market pace, making it an ideal time to engage in a discussion with a real estate specialist like myself. Together, we can develop a tailored plan to help you achieve your real estate goals, both in the short term and the long term. If you want a more detailed analysis of your property or to go more in-depth about a specific area, please  
give us a call
,
text
, or
email
. I am always more than happy to answer any questions.