The Falls – Townhomes is an exciting new townhouse community developed by Epic Homes, located in the heart of Maple Ridge at 24951 112 Avenue. Currently in preconstruction, these townhomes offer a range of available units, with prices starting from $1,189,000 and going up to over $1,748,000. The unit sizes vary from a spacious 2089 to 3269 square feet, ensuring there's a perfect fit for every homebuyer.
Nestled in the picturesque Kanaka Springs, residents of The Falls will find themselves immersed in nature's beauty. The community boasts a 1.2-acre central park and serves as a hub for social gatherings, creating a close-knit neighborhood. Nature trails wind their way through the surroundings, and the homes are complemented by large, well-maintained yards, providing a peaceful and serene living environment.
Living in Kanaka Springs offers a healthy, happy, and accessible lifestyle. Embracing Maple Ridge's greatest asset, the abundance of nature, residents can indulge in outdoor activities such as hiking and exploring the wilderness with the magnificent mountain backdrop always in view. The proximity to Kanaka Creek Regional Park and British Columbia's third-largest park, Golden Ears Provincial Park, opens up endless adventure opportunities for families.
For sports enthusiasts and outdoor lovers, the region offers a variety of municipal parks, arenas, and adventure destinations, including cycling, mountain climbing, fishing, camping, and horseback riding.
The culinary scene is rich and diverse, with local restaurants, farmer's markets, and seafood markets catering to fresh flavors and tastes. Residents can also explore the eclectic boutique shops and retailers in the area, ensuring a relaxed, pampered, and well-cared-for lifestyle.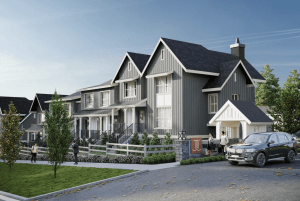 MODERN FARMHOUSE INSPIRED 2 TO 4 BEDROOM TOWNHOMES FEATURING RESORT-STYLE AMENITIES – COMING SOON
The Falls presents thoughtfully designed 2-to-4-bedroom townhomes with a modern farmhouse architectural theme. Backing onto the beautiful Kanaka Creek Regional Park, this development offers a unique opportunity to enjoy the best of contemporary interior finishes combined with the rustic charm of farmhouse-style exteriors.
The centerpiece of The Falls is the "Coho Club," a luxurious recreational facility that will feature resort-style amenities such as an outdoor pool, yoga studio, pump park, theater, hot tub, greenspace, gym, community hub, health club, playground, pathways, spray park, and trails. This exceptional club ensures that residents can indulge in a vibrant and active lifestyle right within the community.
If you're seeking a perfect blend of nature's tranquility and modern living, The Falls – Townhomes is the place to call home. Stay tuned for more updates as this exciting community nears completion and the sales phase begins!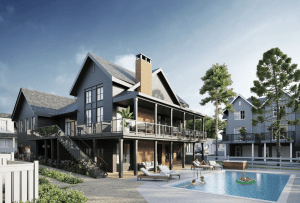 __