Happy New Year! I hope 2023 is off to a great start.
Below is a summary of the most recent market update:
Maple Ridge Condos/Townhouses:
The Maple Ridge condo and townhouse market in December 2022 had a 3 on 10 homes selling rate making December more of a sellers market. With inventory dropping again this month by 25% from the previous month. Sales decreased as well only by 15% which is expected as historically December has been a slower month for sales because of the holidays. We saw a small decline in the average sale price, moving from an average of $591,000 in November to an average of $550,000  in December. The average days homes are sitting on the market only increased by a day over the past month. Homes with two bedrooms in East Central and West Central between $800,000-$900,000 saw the most inventory added to the market in December. Homes in cottonwood and homes with 1 bedroom saw the highest sales ratio over the previous month.
Maple Ridge Detached homes:
Detached homes in Maple Ridge saw a balanced market in December with a 19% sales ratio average. The average sale price has dropped below $1,100,000 from its peak in February 2022 at $1,555,000. With that the amount of inventory coming on the market has slowed down again, decreasing by 25% from November. Homes listed between $900,000 and $1,000,000 saw the most sales in December. Along with 3-4 bedroom homes listed in December had the best sales ratio across Maple Ridge. The number of homes sold decreased by 25% in December bringing the number of homes sold to 36 compared to 48 in November. The average days on the market moved up to 30 days on average in December which is common as the housing market in the lower mainland historically slows down in December due to the weather and the holiday season.
The full market update is attached below.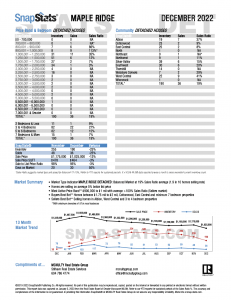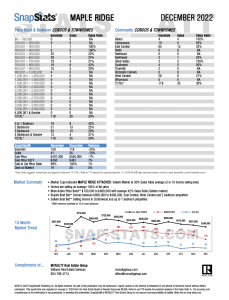 If you are looking to buy or sell in 2023 or have just been thinking about it over the past year or two, we'd love to help you reach your real estate goals this year!
__
It is so important to us that you feel empowered and educated throughout the buying and selling process – if you have questions or would like to know more about another area in the lower mainland, 
give us a call
,
text
, or
email
with
any
questions you have! We can answer all of your questions, and give you specific tips related to the strata, buildings, and more. We're here to help.