Curious about your market value? Send me a quick note and I can run some numbers based on the current market and pricing forecasts.

Let's talk about it! What is actually happening in the market?

There's never been a Buyer's advantage with such low inventory levels and high rates! If you've been following the news media for the past six months, you're likely more confused than ever. I'm here to help!

The market and the ebbs and flows in pricing and sales can not be defined in one blanket news article that is generally addressing the market activity across Canada. A house in East Vancouver is generally experiencing a completely different sales cycle than a townhouse in Maple Ridge.

Buyer's have been waiting for a major shift in prices and I believe, we've hit or are close to hitting the bottom with the single family market. Prices are down 10 – 15% and the investors are scooping up homes as they anticipate a rebound in values.

What we've experienced this past month: open houses have become busier, more multiple offer situations and an overall increase in buyer activity.

The market across the Lower Mainland is extremely low on inventory. This has been some of the lowest inventory in BC over the past 25 years. Good listings that are priced sharp are seeing multiple offers. Buyers are being particular right now and waiting for the right product to pop up. There are a lot of buyers starting to search again after the craziness of 2021-2022. The buyers are seeing they have leverage in some cases and are able to get a great deal especially if they are willing to put in some work.

CONDOS/TOWNHOUSES

As for the condo and townhouse market sales are up from January in areas like Maple Ridge, Surrey, Langley, Mission, Burnaby, Coquitlam, Port Coquitlam and Port Moody. Areas like Pitt Meadows and Abbotsford have remained stable and sales have not decreased. Traffic through open houses has been stable, not crazy but a good amount of buyers come threw. The average sales prices have not seen much movement.

FORECAST: one bedrooms under $500,000 in NEW condo buildings will continue to move fast and newer two bedrooms priced under $600,000 will also keep moving quickly. When I say NEW I'm talking about anything built from 2015-2022 and any buildings in good shape built from 1990-2015.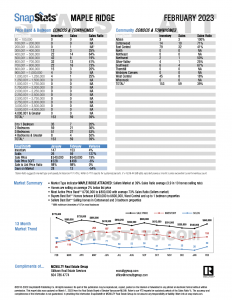 DETACHED HOUSES
Most areas in the Lower Mainland and Fraser Valley detached houses didn't seem too see movement in the average sale prices over the moment of February. Detached inventory in February  saw a decrease in homes listed almost everywhere. This is mainly because sellers are not seeing listings they want to purchase so they don't want to make the move just yet. We are expecting to see a lot more listings come on the market from the end of March to he end of July. Historically the spring and summer have been where inventory has picked up.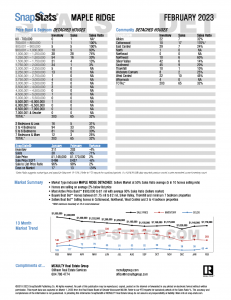 PRESALES
The tables have turned with new construction. We are seeing pre-sale developments sit on the market for long. Along with across the lower mainland we have seen an influx of assignments of contract coming on to the market. This is likely because when the sellers purchased a pre-sale expecting the value to drastically increase which it didn't and now they are having issues getting financing as the development has plans to complete within the next year. This is great news for those with a lot of cash, who would like to get a great deal on new construction. As some assignments are listed below the pre-sale amount.
INTEREST RATES
During February interest rates had fixed rates drop a bit but have remained stable and some rates have come back up in the recent days. The next Bank of Canada meeting is March 8th. The Canadian banks set their target based on this rate but also take into consideration competing bank rates, the level of risk in offering a lower rate, in addition to inflation, GDP and unemployment. In January inflation came down. It will be interesting to see if the Bank of Canada will hold off on raising rates again or not.
__
It will be an interesting few months but the start of the year is already bring some strong sales momentum with it. If you want a more detailed analysis of your property or to chat about your real estate goals, please never hesitate to reach out. It is so important to us that you feel empowered and educated throughout the buying and selling process – if you have questions or would like to know more about another area in the lower mainland, give us a call, text, or send us an email!