Happy Friday! The first market update of 2023 is here.
Maple Ridge Condos/Townhouses:
The Maple Ridge condo and townhouse market saw a rise in inventory by 25% in January 2023. Inventory increased from 118 homes listed in December to 147 homes listed in January. This is common as December is usually a slower month while everyone gears up for the holiday season and plans to list in January. The number of sales decreased over the past month as buyers are all just starting to look again. The number of listings sold went from 35 homes sold in December to only 26 homes sold in January but don't let this fool you. We have seen some multiple offers situations in most areas around the lower mainland. The average sale price has come down 2% from December, bringing the average sale price to $540,000 in January. The most inventory added in January was between $700,000-$800,000, with 3 bedrooms in East Central and Southwest Maple Ridge. In January, the highest sales ratio was listed between $500,000-$600,000.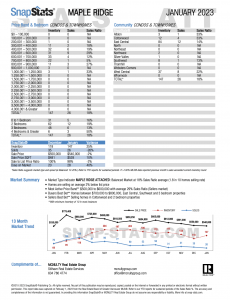 Maple Ridge Detached homes:
Detached homes in Maple Ridge are still in a balanced market with an average  sales ratio of 18%. Unlike the condo and townhouse market, detached homes saw an increase in the number of homes sold throughout the month of January. The average sale price also increased from $1,025,000 in December to $1,148,000 in January. Inventory had an 11% increase which is expected as sellers tend to wait until after the holidays are over to list. The detached housing market is seeing movement with the average days on market dropping from 30 days on average in December to 17 in January. The highest sales ratio was between $900,000-$1,000,000. The most inventory sitting on the market was in Silver Valley, Thornhill and Southwest Maple Ridge and priced between $1,750,000-$2,000,000.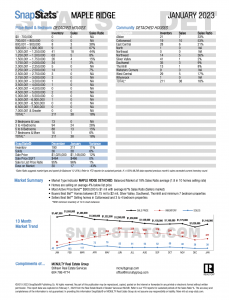 __
It is so important to us that you feel empowered and educated throughout the buying and selling process – if you have questions or would like to know more about another area in the lower mainland, give us a call, text, or send us an email!