Your October 2022 Maple Ridge market update is here! With the state of the world and the increasing interest rates, we have definitely seen an interested year so far.
Maple Ridge Condos/Townhouses:
The condo and townhouse market in Maple Ridge has slowed down. Although inventory is up 4% from September. Condo and townhouse sales have dropped to 31 homes sold in October from 58 homes sold in September. The average sale price has come down a little bit as well from an average sale price of $665,000 in September to $612,000 in October. The average sale price this year is still higher than where it was in October 2021 ($520,000). The highest sales ratio in October 2022 was 2 bedroom homes in East Central and West Central. 
Maple Ridge Detached homes:
Detached homes in Maple Ridge stayed very steady throughout the month of October. This is typically for a fall market. Homes sold were up from 52 in September to 59 in October but inventory was down 7% from September so not as many homes were listed. But compared to the fall and winter in 2021 inventory has more than doubled. The average sale price only went up $10,000 from the previous month and the average days on the market have come down to 18 days on average. Homes in East Central with 3-4 bedrooms saw the most sales. Lastly, the majority of detached homes listed in Maple Ridge in October 2022 were between the prices of $1,000,000 and $1,500,000.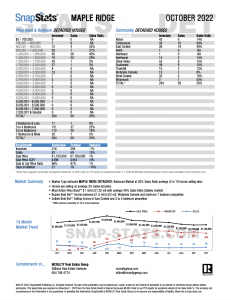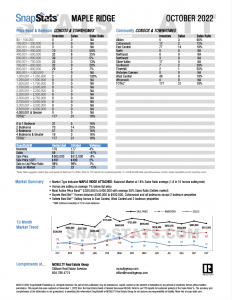 —
It is so important to us that you feel empowered and educated throughout the buying and selling process – if you have questions or would like to know more about another area in the lower mainland, give us a call, text, or email with any questions you have! We can answer all of your questions, and give you specific tips related to the strata, buildings, and more. We're here to help.