Your Maple Ridge Real Estate September 2022 Market Update is here!
Maple Ridge Condos/Townhouses:
The Maple Ridge condo and townhouse market in September saw 9% less inventory added than in August. Sales were up with 58 units being sold in September and only 53 sales in August. The most common inventory to purchase was 2-3 bedrooms. In September we saw the most sales between $700,000 and $800,000. In popular areas like East Central, West Central, Silver Valley and South West Maple Ridge. Lastly the average days on market has increased to 27 days on average from only 17 days in August.
Maple Ridge Detached homes:
Detached houses in Maple Ridge saw more inventory come on the market in September. The average sale price decreased 3% from August putting the average sale price at $1,150,000 for the month of September. Sales didn't decrease very much in September with 53 sales in August and 52 sales in September. Majority of home sales in September were between 3 to 4 bedrooms and the most common sale prices were between $1,000,000 and $1,500,000.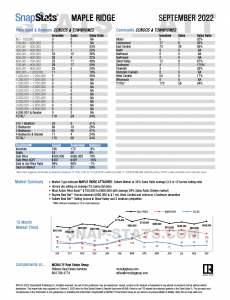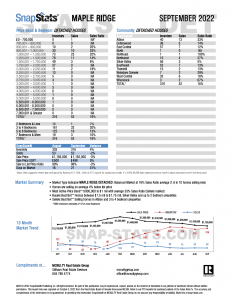 If you have any questions, would like to know more about another area around the lower mainland or would just like to talk with an expert about the market contact us today at 604-341-9937 or
[email protected]