EASTER ON THE FARM
At Meadows Family Farm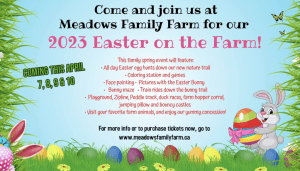 April 7, 8, 9, 10th, 10:00am – 5:00pm
Limited tickets available.
Looking for something to do this Easter long weekend? Check out Easter on the Farm at: 12377 248th Street, Maple Ridge, BC V4R 1J9, Canada
Children Admission $17.00 +gst
Adult Admission $12.00 +gst
Senior Admission $8.00 +gst
Train Rides $3/person
​*All children of walking age that are participating in the egg hunt for a goodie bag are required to purchase a ticket. If under 3 years old and not participating in the egg hunt then no admission ticket required.