This Halloween weekend at WildPlay Maple Ridge: Haunted at Heights! Wear a costume during your adventure on October 28-30th and get a FREE 40ft What's To Fear (WTF) Jump!👻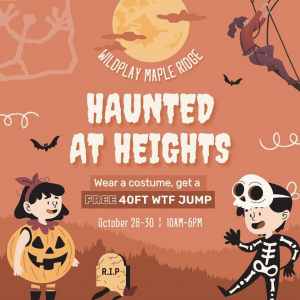 What is the WTF Jump? Climb a 40ft rope ladder alllllll the way up to a single platform high in the treetops. From there, a guide will secure you to the jump line. All that's left is to stand on the edge and take a leap of faith into thin air!
Adventure Courses
You'll start with a training session on the ground to get comfortable using the ziplines and the continuous belay system. Then, you'll climb up a ladder and start making your way from tree to tree by walking across tightropes, climbing up cargo nets, sliding down ziplines, flying through the air on rope swings, leaping onto swinging logs, and balancing on wobbly bridges.
Classic Course
FROM $44.99 – $54.99*
3 levels of obstacles that get higher and more challenging as you go. Work your way up (literally!) to the top, and then check out the Extreme Course!
Extreme Course
FROM $9.99 – $19.99*
Add-on to the Classic Course with even more obstacles and ziplines. This course will really test your limits!
Kids Course
FROM $19.99 – $29.99
Designed for shorter humans, this single-level course reaches up to 15 feet high and is ideal for kids between the ages of 5 and 12.
Axe Throwing
FROM $19.99 – $24.99/Person/Hour
Experience the thrill of landing a razor-sharp axe into a wooden target at the end of a 14ft alley. Once you hear the satisfying thud of your axe wedging into the bullseye, you'll be hooked!
What's to Fear Jump
$14.99-$19.00
An exciting plunge from 40ft!
You'll start by climbing up a rope ladder and onto a wooden platform. Then, you'll be securely tethered to a jump line. When you're ready, leap off the edge of the platform and enjoy the ride down!
This is the perfect thing for anyone looking for an adventure or an adrenaline rush. Its a great activity for families or just to play outside!