August, usually considered a slower month, didn't turn out as sluggish as expected. Let's delve into the details!
As noted in my July market report, the detached home market was transitioning towards a balanced market. Currently, the majority of detached home markets in the Greater Vancouver area and Fraser Valley have shifted into a balanced market, though there are a few exceptions. Conversely, the condo and townhouse markets in the Greater Vancouver area and Fraser Valley continue to predominantly be a sellers' market.
A balanced market is a real estate market where the supply of homes matches the demand, resulting in stable prices and fair conditions for both buyers and sellers. In contrast, a seller's market is a real estate market where there are more buyers than available homes, leading to quick sales and potentially higher prices, favoring sellers.
It's important to note that the real estate market is highly dynamic and subject to fluctuations, and this article may not cover all the complexities of the market activity across B.C. We saw a good number of buyers shopping in August, as there is talk of another rate increase coming in September. Buyers were looking to purchase before their rate hold expires in September or October.
Maple Ridge's condo and townhouses market is currently experiencing a seller's market, boasting an impressive 37% sales ratio on average. These properties are in high demand, with homes typically selling for an average of 3% above their listed prices. In August, we observed a substantial 15% increase in the average sale price, rising from $595,000 to $685,000. Despite a 7% decrease in the number of sales during August, the inventory levels remained relatively stable, only increasing by 2%. This limited inventory, coupled with increased sales activity, led to a significant reduction in the average days on market, nearly halving the time it takes to sell a property.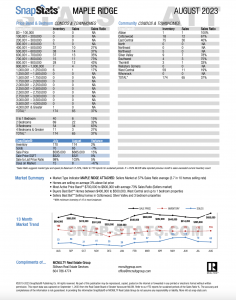 FORECAST:
The fall market typically tends to be slower than the spring market. Many buyers have opted to wait until the fall to make their purchases. In September, we anticipate a slight increase in inventory levels and the number of sales. This is because buyers with rate holds will be looking to make quick purchases, especially with the potential rate increase expected in early September. In some areas, we might witness a shift from a seller's market to a more balanced market, following the trend set by the detached home market.
On the other hand, the market for detached homes in Maple Ridge is currently in a balanced state, characterized by a 13% sales ratio on average. In August, the average sale price remained relatively consistent compared to July, with only a minor 2% decrease, settling at $1,225,000. August saw a notable rise in inventory levels, marking the highest number of listings seen in the past year. However, the number of homes sold in August declined to 45, down from 66 in July, a trend often observed in the summer months as both sellers and buyers take vacations.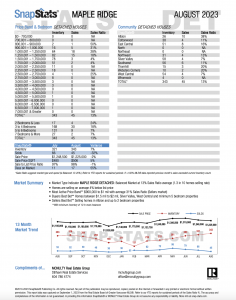 FORECAST:
This fall is shaping up to be more favorable for buyers, a trend not seen in a couple of years. Sales and inventory levels are expected to remain similar to those in August throughout September. Many buyers have opted to wait until after the summer season to make their purchases, but with the potential rate increase looming in September, those with rate holds will likely be eager to secure their purchases before November.
As we look ahead, the upcoming month promises to maintain a steady market pace, presenting an excellent opportunity to have a discussion with a real estate specialist like myself. Together, we can create a customized plan to help you achieve your real estate goals, whether they are short-term or long-term. If you want a more detailed analysis of your property or to go more in-depth about a specific area, please never hesitate to reach out. I am always happy to help.
__
It is so important to us that you feel empowered and educated throughout the buying and selling process – if you want to achieve your real estate goals or are thinking about listing your home soon, give us a call, text, or email with any questions you have! We can answer all of your questions, and give you specific tips related to the investing, stratas, and more. We're here to help.