April's Market Breakdown
Curious about your market value? Send me a quick note and I can run some numbers based on the current market and pricing forecasts.
Spring has arrived, and the flowers are in full bloom. The sun is shining more often, but what does this mean for the real estate market? Let's chat!
Inventory levels have increased a bit in some areas, but we are still low on inventory across most markets in the Lower Mainland and Fraser Valley for the amount of buyers currently looking. Sellers are seeing multiple offers if the property is priced at market value, but we are not seeing a dramatic increase in sale prices this spring.
The market ebbs and flows, pricing, and sales cannot be defined in one blanket news article, that generally address's the market activity across Canada or British Columbia. Towards the end of March and throughout April, we saw a shift in the markets. Listings started seeing multiple offers again, but the sale prices aren't being blown too far above list price, as buyers know how much they can afford and are not in as much of a panic as we saw in previous years. The offers have been staying within the $10,000 to $50,000 range of the market value.
This spring, we have been seeing a good mix of primary residence purchasers and first-time homebuyers. We've seen investors from Vancouver to Abbotsford looking to move their money around and letting go of rental properties. Families and up-sizers are feeling more comfortable shopping within their budgets in the detached market. As well as down-sizers have been seeing more potential products in the market to move into, allowing there to be more inventory coming to detached markets across the Lower Mainland.
What we've experienced this past month: open houses have become very busy, offer dates for in-demand homes, more multiple offer situations, an increase in buyer activity, and an overall increase in movement in most markets.
CONDOS/TOWNHOUSES
In Maple Ridge, the condo and townhouse market had a stable month, with inventory levels increasing by 3% and the number of homes sold in April rising by 9%. However, the average sale price did drop by 6% from March to April. Open houses have been experiencing consistent traffic across all areas. Townhouses in Cottonwood and Silver Valley that offer 3-4 bedrooms are selling quickly, but two-bedroom listings are not far behind based on the sales ratio.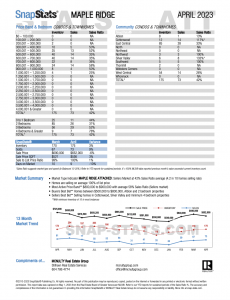 FORECAST:
There will be more inventory coming on throughout the late spring into summer. Townhouses under $900,000 will continue to move quickly, the same goes for 2-bedroom condos in good, well-kept buildings under $600,000 throughout the Greater Vancouver area and Fraser Valley.
DETACHED HOUSES
In April, most areas in the Lower Mainland and Fraser Valley experienced an increase in inventory, including Maple Ridge which saw a rise in sales and average sale price. Homes in Maple Ridge had an average of 12 days on the market. Properties with 3-4 bedrooms in Albion, Cottonwood, and Thornhill have been selling quickly.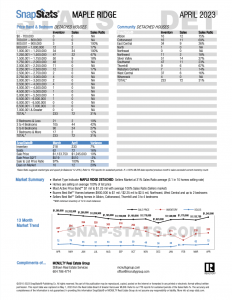 FORECAST:
Well-priced detached homes listed sharply for market value will continue to be pretty busy and see multiple offers or move quickly. Lots value will be super valuable in most areas with potential that are forecasting a good amount of new developments. Inventory is for very lower priced character homes and homes that need some renovations. We will likely see multiple offers on most homes in the Metro and Greater Vancouver areas priced sharply in desirable locations throughout the late spring and heading into summer.
PRESALES:
In terms of presales, there are still many contract assignments for sale on the market. Over the month of April, we saw new developments being released and announced, which is a good sign if you are considering purchasing new construction. Two presales that have been released are Portwood in Port Moody, which is now officially selling, and La Riviere in Maple Ridge, which is set to open sales to the public by the end of May. If you are interested in any presales around the Greater Vancouver areas and the Fraser Valley, feel free to send me a message. My team and I are usually able to get early access to presales for our clients.
These next few months will be busy, and it's a great time to consider listing or purchasing depending on your real estate goals. If you want a more detailed analysis of your property or to go more in-depth about a specific area, please  give us a call, text, or email. I am always more than happy to answer any questions.