Your chance to win and support the purchase of essential equipment and other high-priority needs for Maple Ridge Pitt Meadows Health Services!
Our highly skilled health care teams in Maple Ridge and Pitt Meadows rely on Ridge Meadows Hospital Foundation and our donors to put the essential tools in their hands and the most up-to-date equipment in their departments, allowing them to continue to provide the best care possible. This year, we have committed to over $660,000 towards equipment and other high-priority health care needs at our hospital and in our community.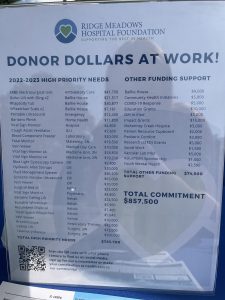 How many tickets are available for sale?
There are 18,050 tickets available for sale.
How much do tickets cost?
Single Ticket for $10, 3-Ticket Pack for $25, 8-Ticket Pack for $50, 20-Ticket Pack for $100,
Can I request a specific ticket number?
No. Ticket numbers are computer-generated in ascending order starting at a pre-determined number.
When are the deadlines for ticket sales?
Final Sales Deadline: Midnight, Wednesday, August 31, 2022
What are the odds of winning?
Chances are 1 in 18,050 (total tickets for sale) to win a prize. Actual odds depend on number of tickets sold.
Click here to enter to win today!